Intrusion is a US company specialized in cyber-protection. It provides various softwares related to entity identification, data mining, cyber-crime prevention and advanced persistent threat detection. Its clients are the US government (federal + locals entities), banks, credit unions and other financial institutions, hospitals and other healthcare providers, and many more.
The company was founded in 1995 and is located in Texas, it currently has 32 employees.
Financial ratios :
Market Capitalization (USD) = 71M
Price to Book = 49.42
PER = 28.00
EV/EBITDA = 21.32
Growth rate Year over Year = 33%
Debt to Equity = 50
So we have a growth rate > PER (like Peter Lynch likes) with a decent debt to equity ratio.
Pros and cons
Pro : Revenue growth rate and EPS.

Pro : Industry. Ransomware and hacking have become more frequent over the last years affecting hospitals and big companies. The market should become bigger and bigger.
Con : Valuation is high and the growth needs to keep up with the years. Q1 was impacted by covid with a decrease in revenues of about 50% year over year.
Con : High competitive industry.
Perspectives
Graph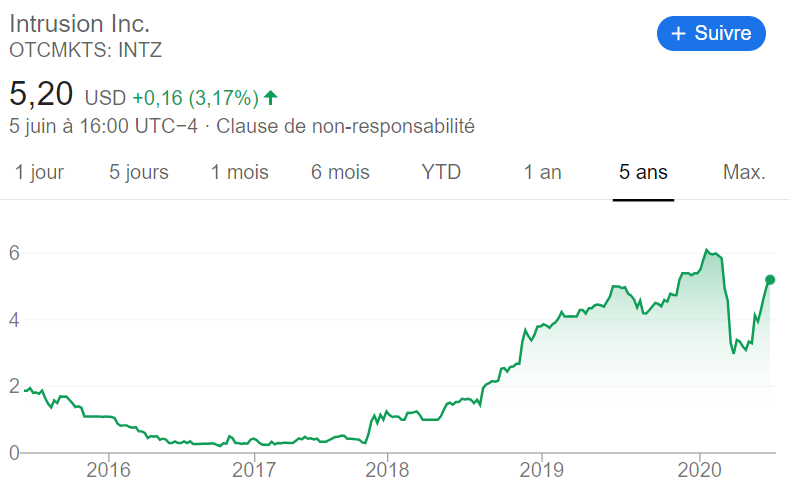 Management
The CEO of the company is Jack B. Blount. The Plaxton family controls about 30% of the shares.
I didn't find any recent insider activity except for the option exercise.
I bought this position one month ago at $4.00 per share. It's still cheap at $5 according to me.
Image Credits : intrusion.com, OTCmarkets.com, Google.com
Disclaimer: I am not a financial advisor. All this site content is for entertainment purpose only.